In today's tutorial we will be showing you step by step how to install your own operating system on your brand new server from NewYorkCityServers!
*Note* – Click to enlarge pictures.
Step 1:

Log into the IPMI/KVM control panel for your server. You can find the log in details in the email that was sent to you with your server information. Once logged in drag your mouse over the "Remote Control" button in the top menu bar. A drop down menu will appear. Click on "Console Redirection".
Step 2:


Once the pages loads, click on "Launch Console".
Step 3: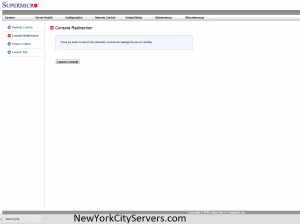 You will be prompted to download a java file called "launch.jnlp". Once the file has finished downloading double click on it to launch it.
Step 4: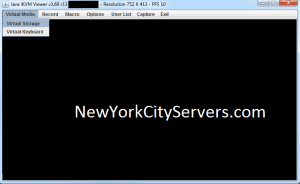 Once the console window pops up, drag your mouse over "Virtual Media". Click on "Virtual Storage" in the drop down menu.
Step 5: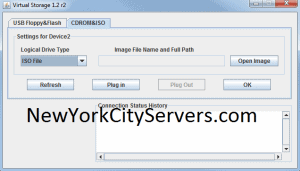 Inside the virtual storage window, select the "CDROM&ISO" tab at the top of the page.
Under the "Logical Drive Type" select "ISO File".
Click "Open Image" and selected the ISO file for the operating system you are installing.
Once you select the ISO file click the "Ok" button.
Step 6:
Reboot the server using the power control option inside Supermicro IPMI/KVM control panel. Make sure you leave the console window open.
While the server is booting up press F11 to open the boot menu.
Inside the boot menu select the Virtual CD Rom option.
You will now load up the installation screen for the operating system.