In this guide we will show you how to configure auto login, auto start, and alerts through our Liberty software.
Step 1 - Auto Login
When enabling auto login it will mean that anytime your VPS is restarted it will automatically sign itself into Windows. This is the first step in creating a system where Liberty will automatically start your trading software each time your VPS is booted.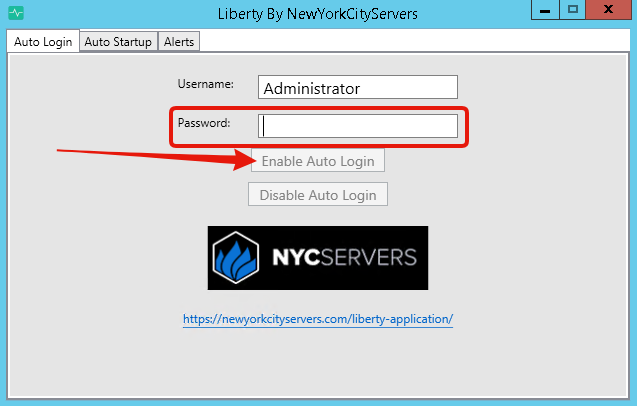 Simply enter your VPS password into the password field, and then click enable auto login. 
Step 2 - Auto Startup
Next, click the auto startup tab in the menu bar. In this section we will configure which programs that we wish to start each time your VPS is booted. In addition the programs mentioned here will be monitored by Liberty and made sure to always be open on your VPS.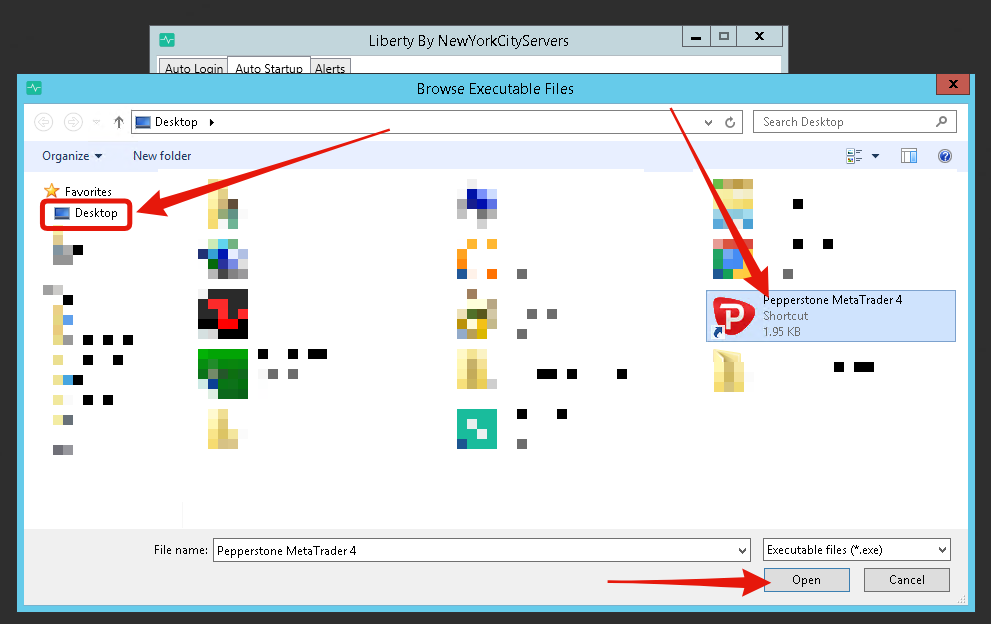 First, click the add new button inside of the Liberty program. A new window will then popup where you can select the programs that you wish to start. To add a MetaTrader program to auto start you can simply click the desktop icon in the side menu, select the MetaTrader (in this case we are selecting Pepperstone), and then click open. After completing these steps you will then see the Pepperstone MetaTrader under the auto startup menu. Repeat this process until you have added all trading software that you wish to have added to auto startup.
Step 3 - Alerts 
Finally, Liberty also features email alerts. In this section you can configure the alerts to be sent right to your email address. The email settings input will vary from customer to customer depending on what email provider you are using. In this example we will provide the gmail email settings below. If you are using a different email provider you can simply search the SMTP email settings for your provider or you can contact us through support and we will be happy to assist you.
If you are using gmail please proceed with the steps below:
1) You will first need to adjust your gmail settings here: https://myaccount.google.com/lesssecureapps . Adjust the settings so that it says "allow less secure apps: on". If you do not feel comfortable doing this on your main gmail account, you can simply create a new email address used just for alerts.
2) After you have adjusted the gmail settings, you can input the following information into the email settings fields:
From Address: your gmail address
Login: your gmail address
Password: your gmail password
SMTP Server: smtp.gmail.com
Port: 587
Recipient: the email address where you want to receive the alerts (it can be the email address as used above)
Check the box for enable SSL for SMTP

After you have input the email settings, select which email alerts you want to get and then click save changes. After that click the test settings button to make sure that the email alerts are working.
If there are any further questions regarding configuring Liberty please contact our support team and we will be happy to help you.